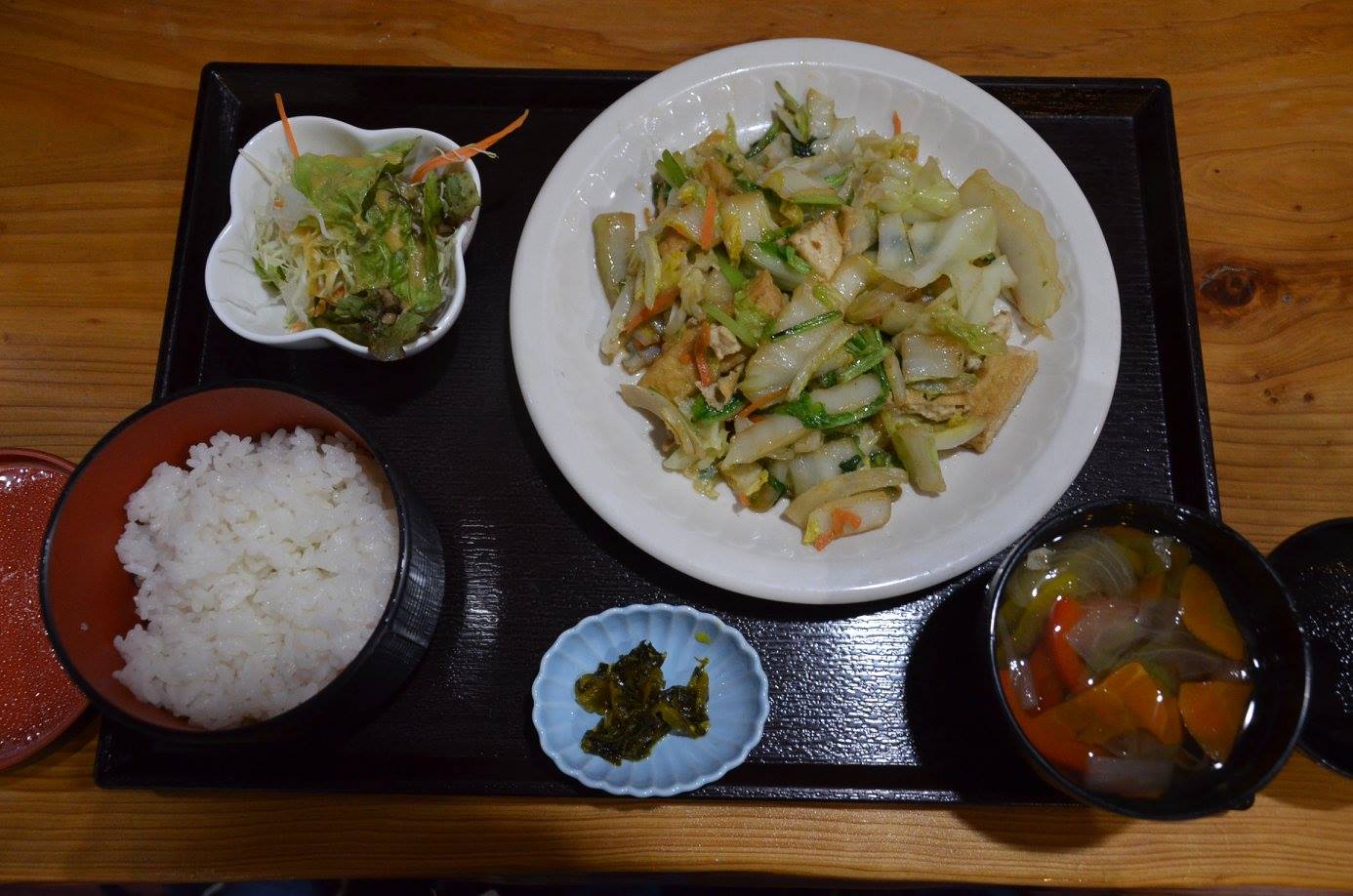 Being a vegetarian in Japan is quite a challenge, let alone being vegan. However, it is far from impossible! Just like in many other places throughout the world, vegetarian food is becoming increasingly popular. While I was living in Kyoto in 2016/2017 I found quite some awesome vegetarian an vegan restaurants (want to know more, check out this blog). Similarly when I went to Tokyo in 2018, I found some great places as well. While it is still a bit difficult to figure out what you can and what you can't eat (especially if you're a strict vegetarian/vegan), there are some ways to make this life a little bit easier. 
Learn the Language
First of all, it definitely helps if you know Japanese, of have a friend who can come along and translate. While it seems obvious, this is one of the biggest problems. Generally, Japanese people don't have a full understanding of what vegetarian or vegan is. So even if you say "watashi wa bejitarian desu" (I'm a vegetarian), it doesn't guarantee you'll get vegetarian food. An easier way to make clear that you're avoiding meat and fish is to say: "watashi wa niku to sakana wo tabemasen", meaning I don't eat meat or fish. Of course you can say this for other things as well, just mention the thing you don't eat followed by wo tabemasen (meaning don't eat) and it will help a lot.
But even if you say "watashi wa niku to sakana wo tabemasen", you still have to be careful of katsuo-dashi, this is fish stock and often not regarded as 'meat' or 'fish', therefore your meal might still contain this. The same is true for bonito flakes (fish flakes), cold katsuoboshi in Japanese. If you want to make sure this is not in your food either, you can for example say: niku to sakana wo tabemasen. followed by: "katsuo-dashi to katsuoboshi mo tabemasen". 
For vegans it's a little bit more difficult. Of course you can metion all the things you don't eat, such as: 
- egg: tamago
- cheese: chiizu
- milk: gyuunyuu
Get a dietary card
but be prepared to get some startled looks. There's an easier way as well. When I stayed at a hostel in Tokyo, they had these super useful dietary cards which said in Japanese what you could and couldn't eat. In this way you can just show the staff of a restaurant the card and then they can help you choose a dish. the website justhungry.com offers some options for cards for several dietary restrictions. Simply download them and show them on your phone. While these cards are useful, I prefer the cards on which you can circle your restrictions, such as the one provided by LiveJapan. They also show some common ingredients you should be aware of and ways to say you're allergic for example. 
Get the google translate app
When you're buying food in a store it can also be rather challenging to find vegetarian/vegan options. While you can sometimes ask the clerk, or another shopper, this is not always an option. Google translate can come in real handy in this case. Since many places have WiFi nowadays, especially convenience stores (although it can be a bit of a hassle to acces it), you can easily use the app. By simply scanning an ingredient list with the app, it will give you an immediate translation of the japanese ingredients. 
If you're not able to use internet or WiFi, you can also learn the kanji for the words important to you, or list them on your phone so you can check more easily. SurvivingnJapan also provides a great guide to reading food labels and the ingredients. 
Be aware of ingredients/dishes
You don't have to eat at vegetarian or vegan restaurants all the time, there are still plenty of options at other places. However, there are some things to be aware of. 
Sushi
When you go out to eat sushi, the obvious thing is to avoid fish sushi. However, other sushi options are less obvious such as sushi with fish eggs, sperm, or ground fish, but also the sushi wrapped in tofu pockets, they are almost always boiled in fish stock. Sushi you can eat/ask for are sushi with egg (tamago), cucumber (kappa maki), pickled daikon (oshinko maki), mushroom nigiri, okrah nigiri, eggplant nigiri, avocado onigiri, natto (fermented soy beans) maki, and some other options. So there's still plenty to eat. 
Ramen
Unless ramen is labeled as vegetarian or vegan, it will highly likely contain meat or fish broth. However, more and more vegan and vegetarian ramen places are popping up, so don't fuzz, since you'll find some great places to eat. A very popular vegetarian/vegan ramen place is T's TanTan in Tokyo, as well as Sorainoro where they have one delicious vegan option. In Kyoto you can eat vegetarian (not sure if it's vegan) ramen at Mumokuteki in the city center and Mamezen and Vegans Cafe a bit further away. 
Kushikatsu & Tempura
Kushikatsu in a great dish which you can find a lot in Osaka for example. Tempura is super delicious as well. While it is often vegan if you choose the vegetable options, the tempura batter can sometimes contain eggs, so be sure to check. The dipping sauce also usually contains fish, since it's often a mix of dashi and soy sauce. Sometimes you can ask for simple soy sauce (however, they don't always have it), or you can dip it in salt. 
Udon & Soba
Udon and Soba noodles can either be served in broth, or in a basket with many sides. I would avoid broths since they are always meat or fish based (unless indicated otherwise of course). If you order the ones that are not served in the broth, make sure you order it withous bonito flakes. Also the dipping sauce if other a mix of soy and fish stock and sometimes additional things. However, the noodles come with several sides such as sea weed, spring onion, pickles and can therefore still be greatly enjoyed! 
Convenience stores
While many things in the convenience store are not vegetarian/vegan, other things are. To start with: the onigiris. In the konbini you can find ume (pickled plum), seaweed, plain, red bean and corn-mayo onigiri which are all vegan, excepts for the last one. Furthermore you can find two types of vegan/vegetarian sushi. The vegan one is natto (which is quite a thing to get used to), the second one is a big roll with egg, vegetables and some pink grainy stuff that almost looks like fish eggs, this is vegetarian! Other things are things like Dango (rice balls), tsukemono (pickled vegetables), pre-made salads
(they are in see through boxes so you can see what's inside), happy dates bars, nuts, edamame (soy beans), and more. If you want to know about more vegan dishes check out this great vlog by Currently Hannah. 
Last but not least... Prepare!
Preparing is a big part of finding the best vegetarian and vegan places to eat. You can find information through the large amount of blogs and vlogs on the internet, which can help you greatly, and you can ask locals or hotel staff. The website happycow.net is also a good source of inspiration. This website lists all kinds of places with vegetarian and vegan food. Other than that, if you're having a hard time finding a vegetarian place wherever you are in Japan, a good alternative is to find an Indian restaurant. Indian restaurants are really popular and always have vegetarian and vegan options. They are very aware of what it means to be vegetarian or vegan so you're safe there. 
Good luck! :)
WorldSupporter Resources: