There are many types of plastic pallets used in industries for a range of supply chain management processes. This can be overwhelming for you, especially if you are new to the plastic pallet business. Have a look at these different types of plastic pallets available in the market. There are roto-molded crates, stackable industrial plastic pallets, rackable plastic pellets, and many more. In this article, you can explore all the possible classification criteria, from design, application, structure, manufacturing process, and other crucial aspects.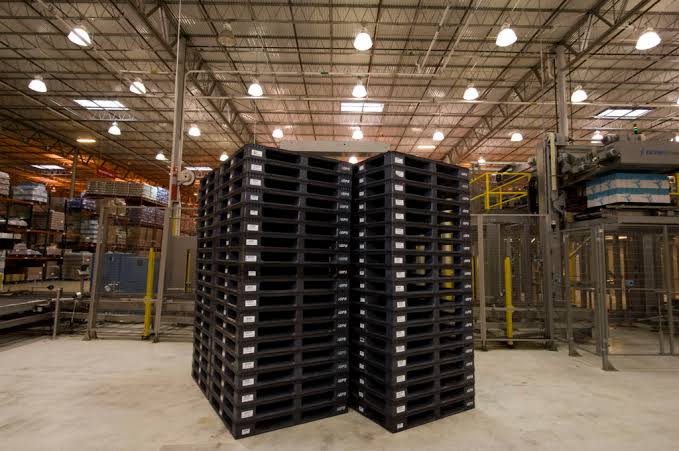 Classification based on Design and Structure
Stackable Industrial Plastic Pallets
This type of plastic pallet is popular for its space-saving feature within the warehouse and during shipping. They are designed in such a way that it can be stacked on top of other pallets without slipping or falling. 
This type of pallet is available in different configurations such as a picture frame, crossbar or 3-runner. The design of stackable industrial plastic pallets guarantees maximum stability when the pallets are stacked either with or without products. 
Rackable Plastic Pallets
When you want to carry heavy loads, you can count on rackable plastic pallets as they have a picture frame or runners at the bottom for extra strength. These pallets are designed in such a way that you can comfortably place them safely on a rack top without falling. Their unique design fits perfectly on the rack.
While these pallets save more space on the floor, but the load must not exceed the load indicated on the pallet.
Nestable Industrial Pallets
If you are in search of pallets that can save more space during the return trips than the nestable industrial pallets are the perfect choice for you. These pallets are designed to occupy a quarter of the space occupied by other plastic pallet design.
These pallets have legs that go into each other, making it easy to stack. However, even with the legs, the pallets are strong enough to withstand an enormous load. 
Drum Plastic Pallets
As the name justifies, these pallets are specially made to ship drums of different kinds. This type of pallet is uniquely designed with four modeled recessed ring. While the size of the recessed ring may vary depending on the size of the container. 
Types of Plastic Pallets Based on Application
When talking about plastic pallets based on application, it may be used for transporting drugs, foodstuffs, electronics, etc. For these types of applications, you will need the following types of pallets. 
Export Industrial Plastic Pallets
Export pallets are molded recycled plastic which is cost-competitive. As the name justifies, these pallets are designed only for exporting, which means they are for one-way shipping. This type of pallet is very strong, durable and will serve you for years. 
Display Plastic Pallet
Then there are display plastic pallets that are smaller in size and are available in a range of sizes. Such pallets can be used in groceries, supermarkets or shops to display products. While you can transport these pallets using a forklift. 
Spill Control Industrial Plastic Pallets
These pallets are specially designed to control spills or leaks during storage and shipping. You can use these pallets to store and transport hazardous substances. They have special chambers where the leaked or spilled liquid is collected rather than leaking onto the floor or shipping container. 
Just like other industrial plastic pallets, these pallets come in a wide range of sizes and unique features. 
Industrial Hygiene Plastic Pallets
When you need pallets in industries such as pharmaceuticals, foodstuffs, drugs, and beverages, you will need these industrial hygiene plastic pallets that don't hide any bacteria, thus reducing the chances of infection.
These pallets are easy to clean and comes with no corners or edges that accumulate dirt. Moreover, the surface of such pallets is completely smooth.