Hello everyone,
On my trip to great England i had the one of the best pub foods. Pub food is fast easy, simple and doesn't require to much effort. Today i wan't to share my version of scotch eggs, i've been making them since i left England and the are delicious.
Prep Time: 10 mins
Cook time: 15 mins
Instructions
Boil all your eggs for 2-4 mins (Depening on the heat). You wan't the eggs to be cooked on the outside and liquid in the center (Yellow). Once you're eggs are done take them out and pout cold water over them for 20 seconds. This is to stop the egg from cooking any further.

Preheat your deep fryer to 350.

Meanwhile wrap your hard boiled eggs in your pork sausage.

In 3 separate bowls add your eggs, flour and bread crumbs,

Dredge your wrapped eggs first into the flour, then eggs then bread crumbs.

Fry 2 at a time in deep fryer for about 5-6 minutes or until internal temperature is 160.

Remove cooked eggs and serve

Serve with honey mustard or your favorite dipping sauce (Mayo, Ketchup, BBQ hot sauce) or make ur own.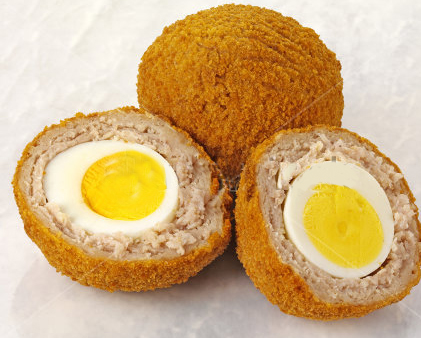 Ready In: 20 min.
Ingredients:
1 kilo of pork sausage or any other sausage type.
1/2 cup flour
2 eggs beaten
4 soft boiled eggs peeled