Recently I walked part of the West Highland Way in Scotland on a short 1-week break from work. Since I flew to Inverness, I decided to walk the trail in reverse, which was kind of cool since I often had the experience of hiking totally alone. I combined hiking with and without a backpack; camping, wildcamping and hostel beds and short and long walking days. If you want to know more about my general experience on this trip, read this blog. In this series of blogs I'll tell you about each section of the West Highland Walk and how I experienced it, today talking about section 3: Kingshouse (Hotel) to Tyndrum.
This part was the longest part of my four-day walk, covering 31 km. While it can be split in the middle (at Bridge of Orchy, or Inveroran (good place for wildcamping), hiking both parts in one day isn't all that bad. The day started off with a nasty surprise... a HOLE in my INNER TENT :o. The night before I saw that some rodents were eating from the food I left outside of my tent, so I decided I'd put it in plastic bags inside of my tent. Well, apparently that wasn't enough and only made things worse haha. So yeah, hole in the tent, almost all of my food eaten, so no other way than to hike all the way to Tyndrum in one day (the nearest place with a supermarket). 
After a quick breakfast, 1 pound shower and some warming up and tent drying in the free drying room, I shouldered my pack and made my way south. Just 500m later, the main obstacle of the day presented itself; crossing the super busy highway. Having looked about 10 times to the left and right I quickly sprinted across the road and left Buachaille Etive Mor behind me. The route now took me through the moorland up the mountain, past Blackrock cottage and glencoe ski resort. The old military road took me up the mountain and as I reached the summit of the track, the vast and impressive landscape of Rannoch Moor presented itself. This section of the West Highland Way is a wild and more isolated section, I was walking through one of the last true wild places of Europe. While the trail is relatively easy, and most importantly dry, in bad weather you can be really exposed to the elements again, so keep that in mind!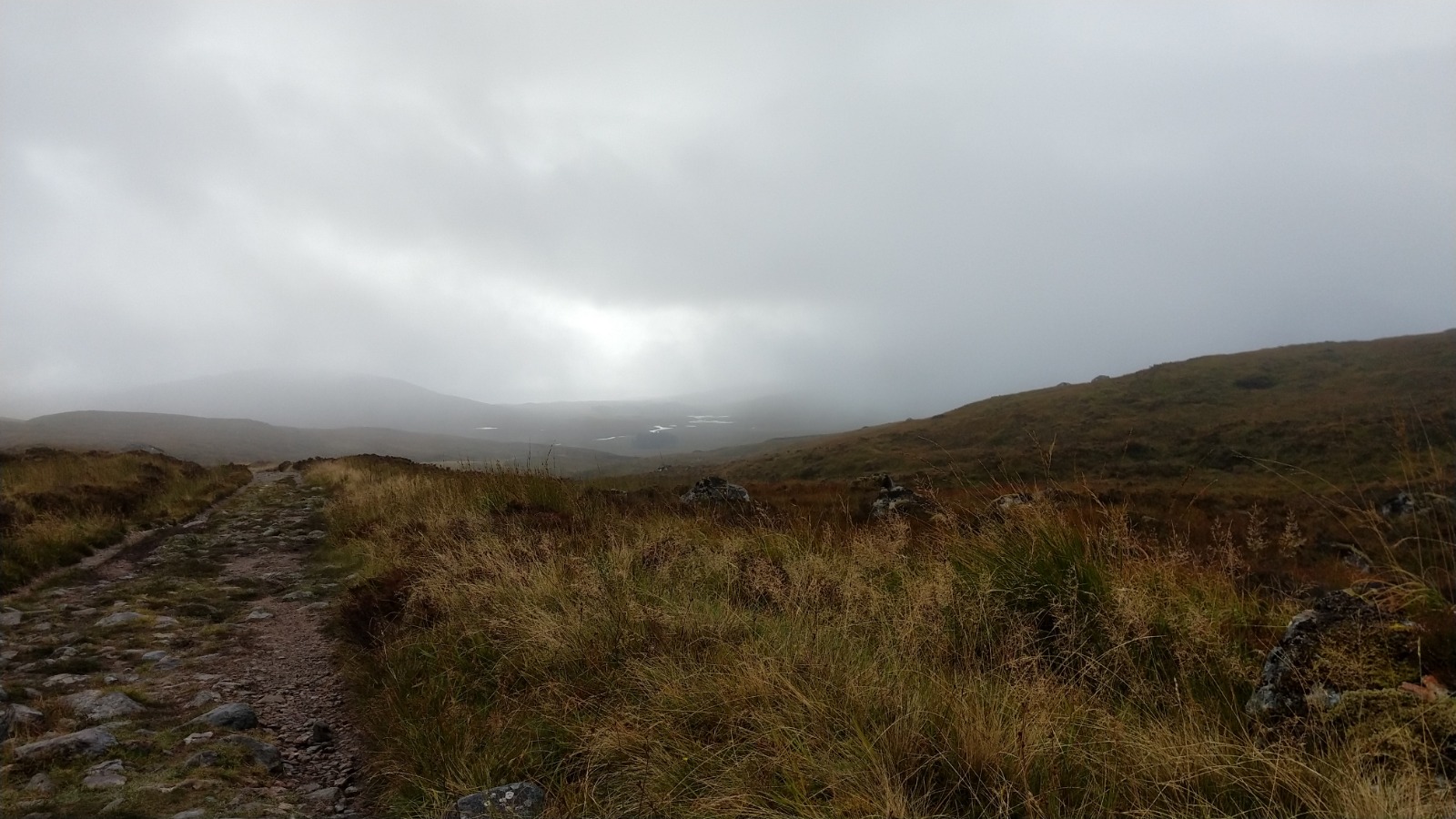 After taking a short break, and some pictures of course, I started this long part of the trail through the moorland. The path was easy to walk on and time flew by! Walking downhill all the way to Ba Bridge (halfway through the moorland) I decided it was a good time to take a break and eat some of my protein bars. Luckily these remained untouched by the little culprits! The whole walk through Rannoch Moor took me a couple of hours and definitely was one of my favorite parts during the hike. I felt the silence and wilderness, and felt engulfed by the roughness of the Scottish landscape.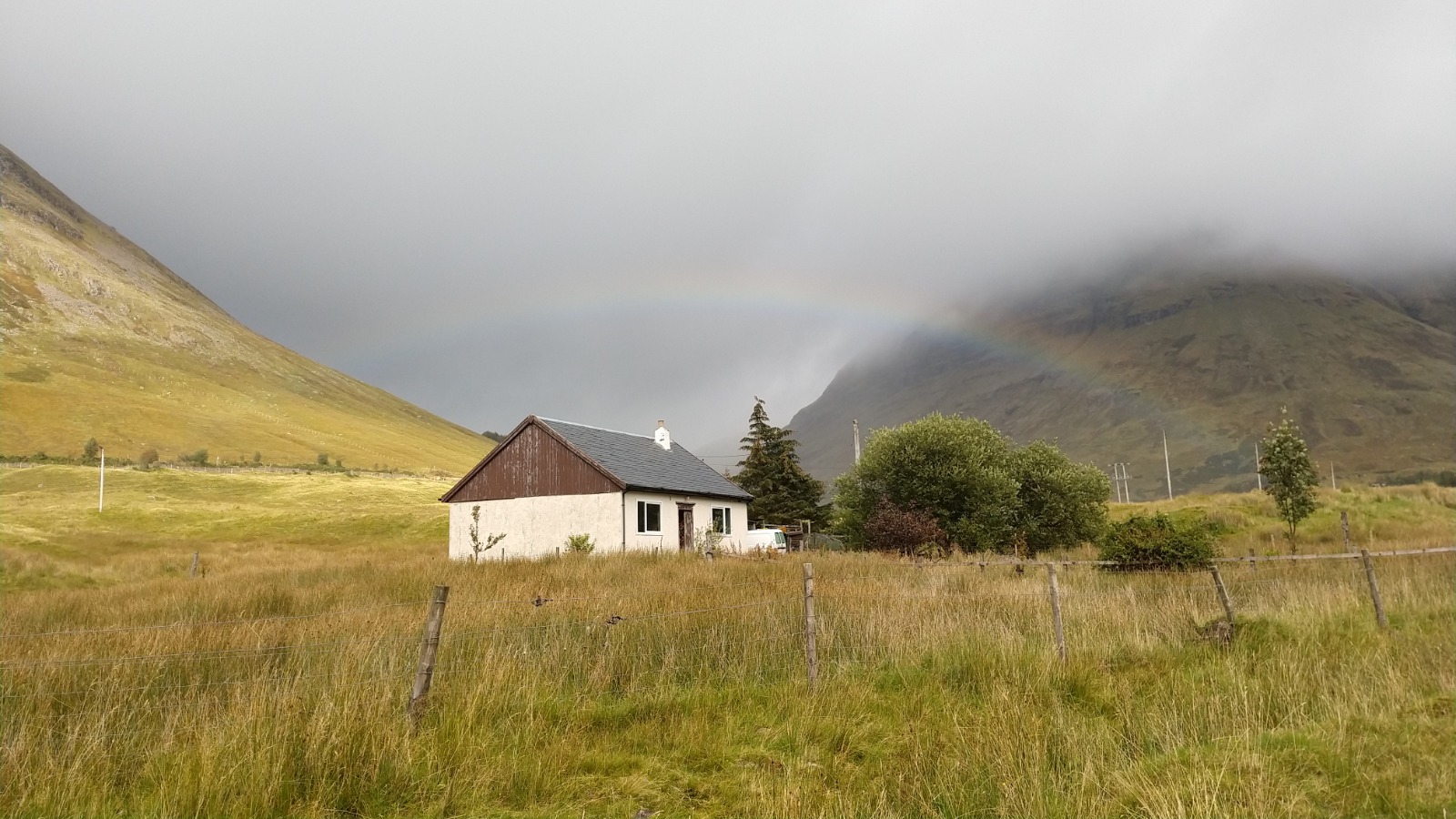 The path then continued to take me downhill, towards inveroran. Here you'll find some good places to wildcamp. Passing the cute inveroran hotel, I decided to stop and have a tea there. It was quite cold, I needed to refil my bottle (which you can do for free outside the back of the hotel) and I was looking forward to sitting down. In the tiny bar there was just enough room for me to pick a table and order an English tea. Next to me was an older American couple, of which the woman was hiking the WHW for the second time (about 25 years after her first WHW hike) so we talked quite a bit about how everything changed and remained the same at the same time. It was fun to meet some new people and a nice half hour break to get ready for my next half of the day. 
After Inveroran hotel, the road took me to Bridge of Orchy. I hiked uphill for a while, and almost forgot to look back at the top, which almost made me miss the sight of Loch Tulla and the Black Mount. Making my way to Bridgy of Orchy, I didn't have a lot of time and got a bit stressed about still hiking to Tyndrum I didn't take a lot of time to look around. I had a back up plan to take the train from Bridge of Orchy to Tyndrum, but when I arrive I decided to walk instead since I thought I had enough time. From Bridge of Orchy, the path followed the railway track for a while, meandering a little uphil through the glens, surrounded by the beautiful bens (mountains), eventually ending in Tyndrum.
The WHW goes straight past Brodies Mini Market, where you can buy all kinds of necessities for quite a good price! I bought some dinner and breakfast for the next day and made my way towards By the Way Hostel & Campsite (such a cool name :D). I decided I deserved a hostel bed for a night and a kitchen to cook my dinner, so for 20 pounds I had a bed in a four person dorm. I put my legs to rest, talked to some English people about brexit and hiking and went off to sleep. While I was tired and my feet hurt quite a bit, I was so excited and proud having walked 30+ km for the first time in my life! Just one more day of hiking before I'd make my way back... but first a good night's rest! 
WorldSupporter Resources: