Recently I walked part of the West Highland Way in Scotland on a short 1-week break from work. Since I flew to Inverness, I decided to walk the trail in reverse, which was kind of cool since I often had the experience of hiking totally alone. I combined hiking with and without a backpack; camping, wildcamping and hostel beds and short and long walking days. If you want to know more about my general experience on this trip, read this blog. In this series of blogs I'll tell you about each section of the West Highland Walk and how I experienced it, today talking about section 2: Kinlochleven to Kingshouse (Hotel). 
After a comfortable night in my tent at MacDonald Hotel & Cabins and a true outdoor breakfast consisting of a bag of cereals mixed with some water, I was ready to pack up and start the second day of the journey. This section would be around 15 km, so easy peasy compared to my first day. This sections also features the Devil's Staircase, a part you'll probably have heard of before, but, since you're walking the trail in reverse, this means no climbing up the 'staircase', but actually climbing down :). 
The day starts with a short walk through the town of Kinlochleven, a beautiful tiny Scottish village. Here you can find a supermarket in case you need some provision for the day, and even a cool indoor ICE climbing center! Also, this town makes for a nice stop to take part in several outdoor activities such as MTB, hiking, trailrunning, kayaking etc. After leaving the campsite, you'll follow the trail towards the River Leven and make your way to the left before crossing it. This river supports populations of sea trout and salmon, and because of their strict fishing rules, if you're there in the right season you might even be able to spot some! Continuing your walk, you'll eventually cross the river towards the old military road that goes up the hill. To me it wasn't the most interesting walk since it's a simple road through the forest that just goes up and up and up. You'll pass a big water reservoir with extensive warnings about not swimming in it, and before you know it you'll be out of the trees and out in the open again!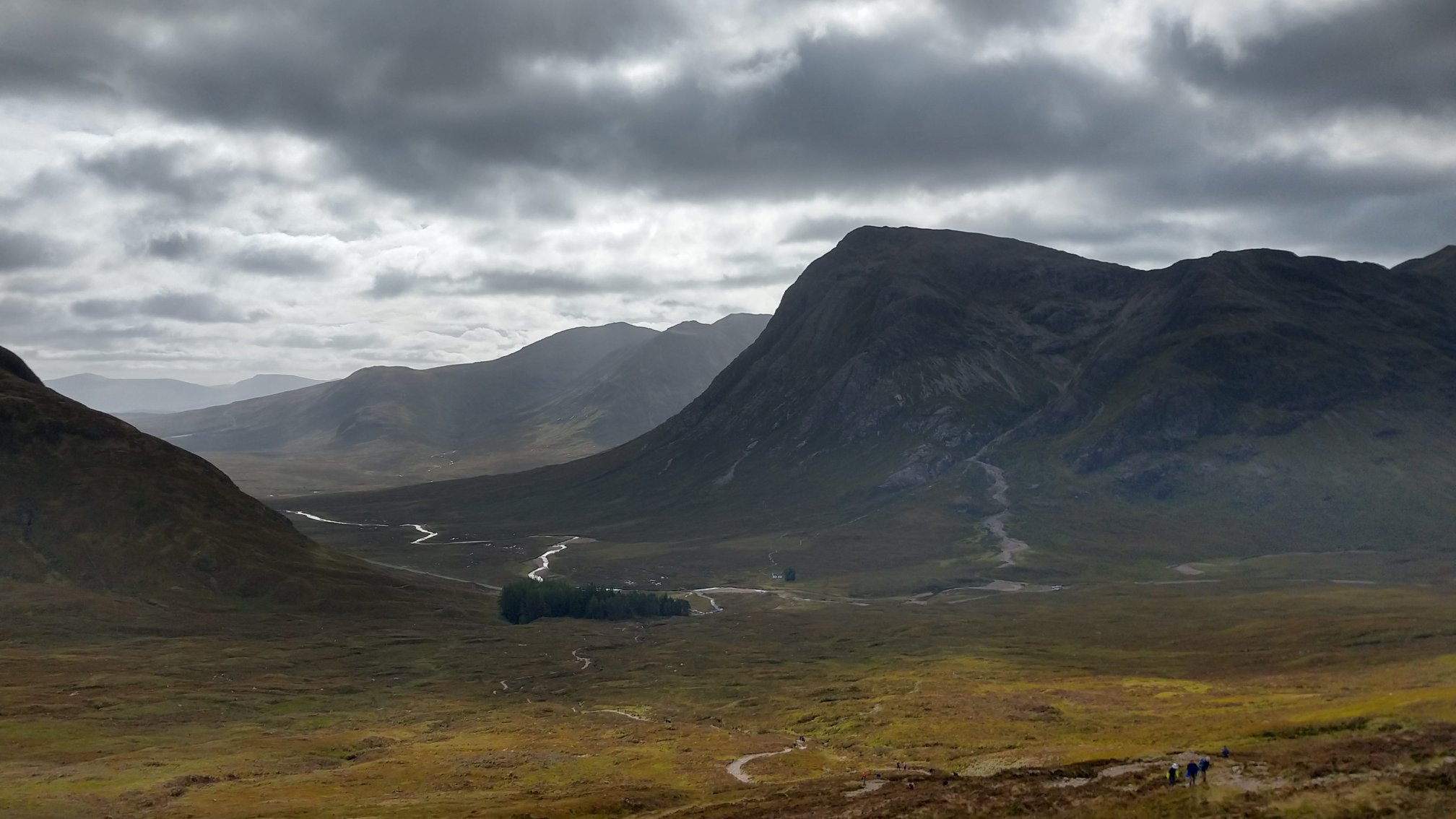 From here on, you'll be super exposed to the weather until you reach Kingshouse, so there's plenty of time to test your rain gear if you have the chance. The path is easy to follow, well marked, but stony in some places such as the Devil's Staircase. However, it is beautiful and the views are simply amazing. For a while you'll just feel like you're the only person in the world. After walking across this Moorland, you'll reach the top of the Devil's Staircase, the highest point of the WHW at 550m. 
After going down the Devil's Staircase (and watching people struggling to get up), you'll be presented with a beautiful view of Glen Coe, the famous site of the MacDonalds Clan massacre in 1692 and Buachaille Etive Mor, one of the most famous mountains of the Munro Peaks. From here, the trail will be quite close to the motorway and quite flat, but the views totally make up for this. Eventually, you'll reach Kingshouse Hotel where you can either take a break in the Pub before you start the next section to Inveroran (another 16 km) or you can make this your overnight stop and either sleep in the hotel/hostel or in your tent on the other side of the bridge. For 1 pound you can take a shower in the building attached to the hostel (here you can also use the toilet and fill up your water bottle), and you can even use the drying room behind the hotel if you need to dry anything. I arrived at Kingshouse around 12.30, so if I hadn't booked the luggage service, I would have continued my walk to Inveroran since I still had plenty of time. All in all, however, staying in the pub, reading a bit and drinking cider was nice as well, and in the evening it's a great place to meet fellow hikers.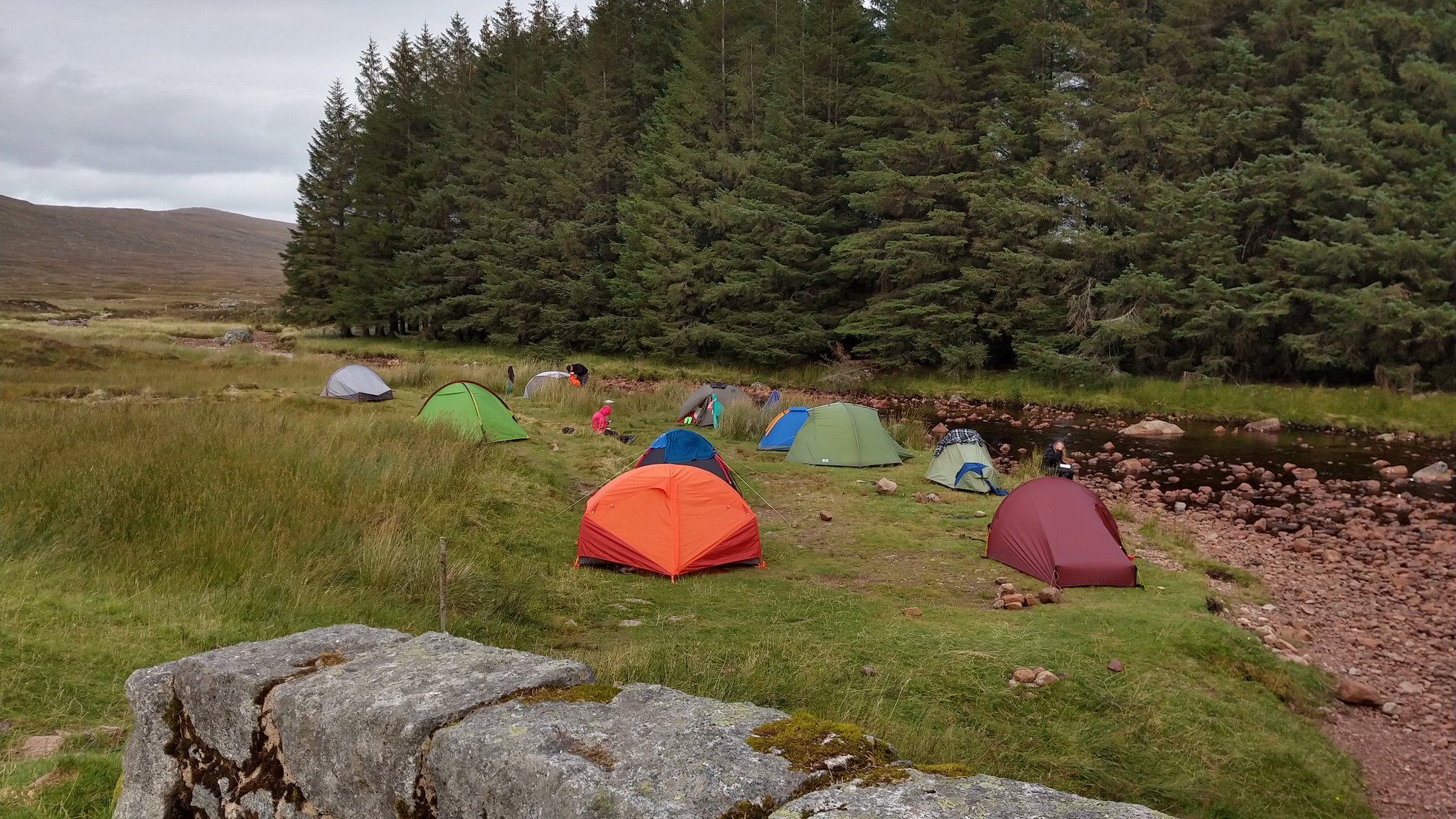 TIP! When wildcamping, make sure you don't put your food in your tent. Sometime during the night, rodents apparently gnawed through my tent and ate all my food. It wasn't really a nice surprise the next morning, to find this whole in my tent. And since I hardly had any food left, I had to combine my next to days of hiking into one, which you can read about in my next blog! 
Click here for the next stage!
WorldSupporter Resources: