Triglav National Park owes its name to the beautiful mount Triglav, Slovenia's highest peak at 2864m. It is a part of the Julian Alps, a mountain range covering both Italy and Slovenia. With it's lush green forest, clear blue rivers and rocky peaks, it presents a great places for nature lovers, offering wild adventures and relatively untouched landscapes. 
Location
Triglav NP is in the north-west part of Slovenia, just across the border from Austria and Italy and covers around 838 m2. It is accessible through both countries, although when coming in through Austria, make sure that your car can handle steep hils (18%) because ours couldn't. Not prepared for a road full of hairpin bends, we took the route through Italy, which, according to Google Maps, would take just as long (less hairpin bends, more highway). On the way we were actually able to also visit a cool, abandoned military battery (the Battery of Sella Predil), in which you can spend about 15 minutes wondering around without anyone else. After that, we continued our journey towards Trenta, in the heart of Triglav NP. This didn't present much of a challenge for the car, since we went downhill and further continued through the Soça valley before getting to our campsite.
 Bled and Lake Bohinj, two major tourist attractions in Slovenia, are in the vicinity of or part of Triglav NP, respectively. And while these two places are packed with tourists, moving a bit further into the national park can give you a much more authentic and natural experience. 
Accommodation
There's more than enough accommodation in and around the NP. While we choose to go camping, we also saw hotels, cabins, and mountainhuts higher up the mountain. However, we would still recommend camping if you have the opportunity. There are quite some campsites and they are quite relaxed about where you can put your tent. The sanitary facilities at our campsite were great, and while I can not speak for other campsites, we walked across one and this also seemed rather fine. However, expect to pay the price for it as well! While in high season it will be hard to find a hotel for less then 70 euros per night, a camping spot also costs almost half of that (we paid 30 euros for two people). We guessed you don't just pay for the accommodation, but also for the location. 
If you want to go hiking (in the mountains), a good place to stay is around Trenta, or maybe a bit more south around Kamp Korita. Here, multiple hikes go in all directions and some even started at our campsite (Kamp Triglav). Another option could be on the east side of the park, where you can conquer the mountain range from the other side. Don't worry about not being able to get around without a car in this remote valley, there is a bus that takes you all the way from the north to the south and the other way around! 
Nature
Triglav NP offers many different sceneries. In the valley you can find traditional agriculture, small villages and beautiful houses, as well as the famous blue and super cold Soça river. You can follow the river along the Soça trail to visit its spring, the gorge it goes through or to maybe even take an ice-cold plunge. For the forest lovers, the mountains felt much greener than the alps. The forests are dense and occassionaly provide you with a glimpse of an animal such as a big red squirrel, deer and foxes. Walking out of the tree line and entering the higher parts of the mountains, the landscape totally changes. It becomes green with patches of bush, and occassionally provides you with some cold streams of water (although rather rare) and the screaming of marmots. Then, walking on, you get to the stony peaks of the mountains. These beautiful and rough parts of the park provide a whole different scenery. Here you can find chemois and ibex, and if you're into birding, spot the golden eagle, ravens and griffon vulture for example. The most beautiful part of it is, you can do all of this in one day!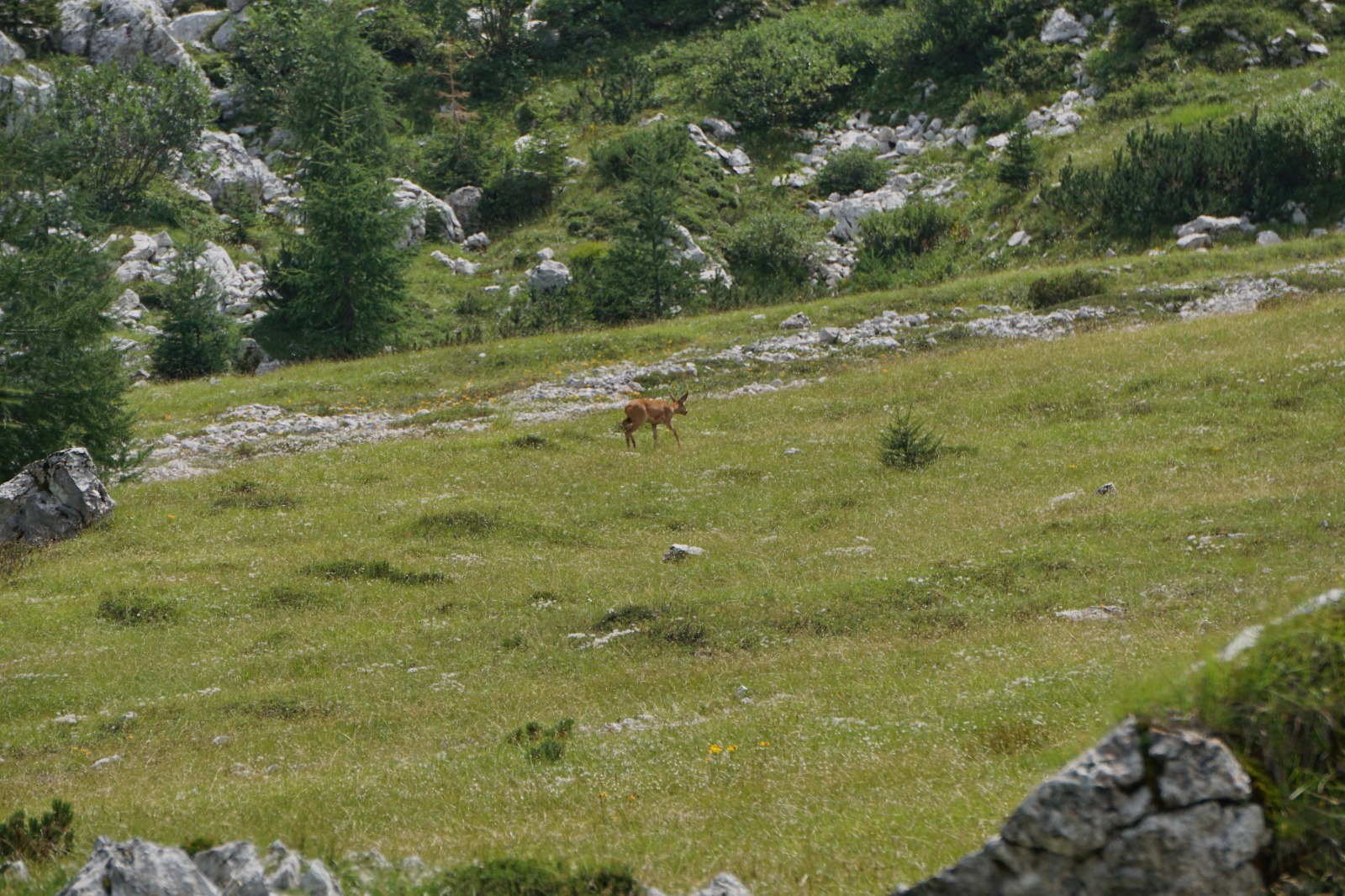 Preparations
If you're going to Triglav by car, be sure to get your vignette for Slovenia (and other countries if it's needed). This is quite expensive (15 euro's for a week), so make sure you don't mind paying that. Planning your accommodation if you want to stay in a hotel or cabin might be necessary, but for the campsites it certainly is not. Many people arrived and left every day without making reservations. For mountain huts on multi-day hikes, I'm not sure whether you have to make reservations unfortunately. 
If you're planning to undertake hiking in Triglav NP, be sure to be prepared. With the many trails in the park, it is definitely worth bringing a map and for example the app ViewRanger. We brought this map, which doesn't cover the whole park, but for the parts that it does, offers a quite detailed map of the trails. You can also find maps that cover the whole park but they might be less detailed. Also, we used the app quite a lot, both to track our trails as well as to see if we were going in the right direction. 
These are two of the routes we took. They are quite tough, but take you from the valley all the way above the treeline. One is a loop, the other one we walked there and back! 
Loop from Kamp Triglav - https://my.viewranger.com/track/details/MTE2MTczNDk=
Trenta to Kriskih Podih and back: https://my.viewranger.com/track/details/MTE0MjE2MTk=
Bring enough food and water. Depending on the hike, you won't find many places to refill your bottle (probably won't find any at all) or to buy food on the way, so bring lunch and plenty of energy-providing snacks such as calory bars. 
It's a great experience, hiking through Triglav. But always make sure to be safe. If you're alone, let the people from your accommodation know where you'll be going and when you'll be back. Check the weather and stay ont he trails at all times! If you have any questions, or additional tips I would love to hear from you in the comments!